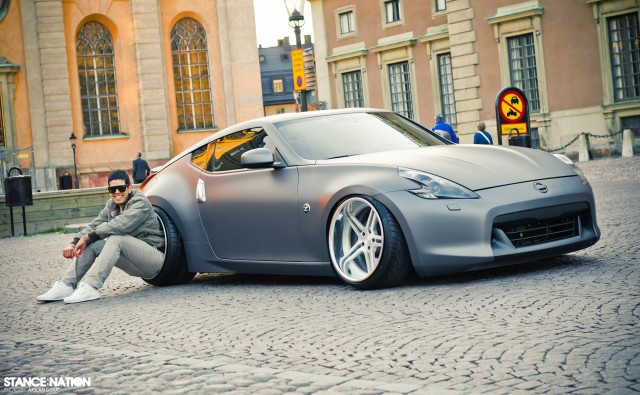 One of the best things that has come with running StanceNation are all the people we meet throughout the world. California to New York, England to Poland and Thailand to Japan, our photographers and fans spread worldwide. In the last few weeks we've been working with our friends out of Sweden on showing off some of their rides. Last week we showed you Albin's incredible
Honda S2000
, and today we'll be taking a look at this aggressive Nissan 370Z.
Photos By: Arslan Golic exclusively for StanceNation.com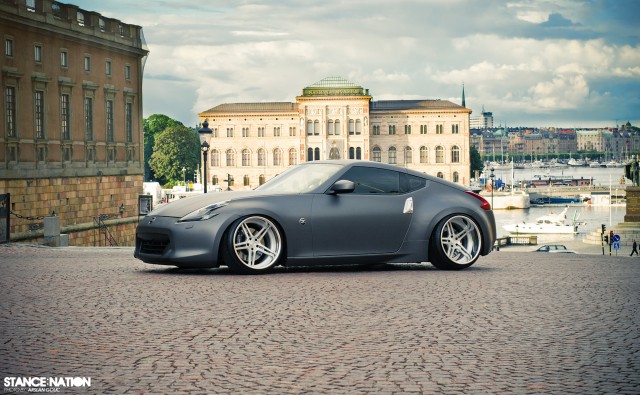 Marcin who is based out of Stockholm, Sweden decided to go the "simple" route with a color change, wheels & suspension, but the finished results were far from "simple". It's one of the meanest looking 370Z's we've ever seen, especially the front end. Despite majority of cars that we post here running negative camber, most people still seem to be against it. We're personally all for it as long as it's done properly, and it's clear that Marcin loves it too! Check out the amount of camber he is running in the photo below. Precisely, it is -8 in the rear and -7 up front.
Just minutes after our friend Arslan started shooting the car he ran into some issues with the military men seen in the photo below. Apparently shooting your car in the middle of Stockholm in front of the Swedish Royal castle isn't prohibited. Huge thanks to Arslan for somehow pulling off so many awesome photos regardless!
Most of the work that was done to this car involved wheels, tires & suspension. In order to get the car sitting the way it does, Marcin had to do a lot more work than a simple drop. For example, up front he added some SPC front camber arms while in the rear he had to add Megan Racing rear camber and traction links as well as SPL rear toe links. After that it was time to mount the insanely aggressive wheels which were imported from right here in the states.
How many of you knew right away what kind of wheels this Z is sitting on? Pretty sure that not too many of you guessed
Nessen Forged
right? Nessen Forged is an up and coming wheel company based out of Florida and so far it seems like they're doing well. We ran a feature not too long ago of Mick's slammed Nissan 350Z (
click here
) that also sat on Nessed Forged wheels. Back to Marcin's car though, it sits on massive 20x11 up front and even crazier 20x13 in the rear. That's actually pretty impressive considering there was no body work done besides a roll & pull.
Up front Marcin is running a 255/30/20 tires and in the rear a pair of wide 305/25/20's sit right against the fenders. Suspension wise, his choice was D2 coilovers. Pretty impressive for those nasty Swedish roads..
With that said, we'll leave you with a few more photos like we always do. We have to give a huge shout out to our good friend Arslan from Club JDM Sweden for making this feature happen as well as Marcin himself for wanting to share it with us. Stay tuned for plenty more amazing rides from the beautiful country of Sweden.
If you think your car has what it takes to be on our site make sure you email us at snfeatures@gmail.com. Make sure you include a few photos and your spec list as well as any other information we should know about you or your car. We're always looking for cars to feature! In the meantime we'll see you guys over on our facebook.
Our Swedish fans have always showed us nothing but love and we truly appreciate that.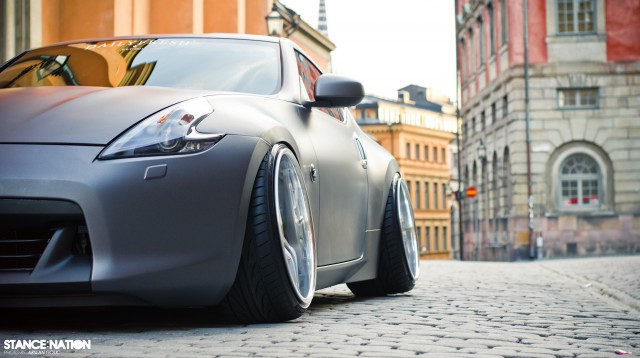 Nessen Forged Wheels
20x13" (7" lip) rear and 20x11" (5" lip) front
305/25 rear and 255/30 front
8 degress camber in rear and 7 in front
D2 Track racing coilover
SPC front camber arms
Megan Racing rear camber links
megan racing rear traction links
SPL rear toe links
Rolled & Pulled fenders
ブログ一覧
Posted at 2012/06/30 03:51:43